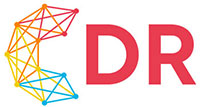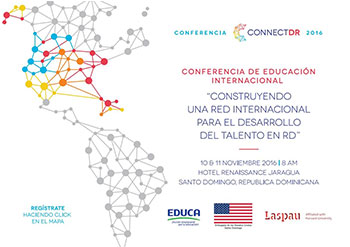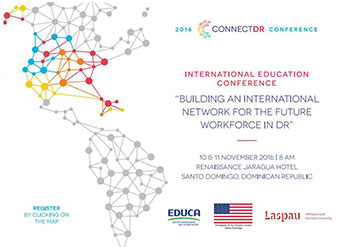 Santo Domingo, República Dominicana
10 y 11 de Noviembre, 2016
Durante nuestra primera conferencia, deseamos traer a diferentes sectores cheap viagra de la población y crear conexiones que trasciendan los intercambios bilaterales comunes. Acompáñanos a explorar el tema de este año: Construyendo una Red Internacional para el Desarrollo del Talento en RD. Este evento se llevara a cabo en Santo Domingo, República Dominicana.
La conferencia incluirá a actores del sector privado, publicó y la sociedad civil, al igual que instituciones de educación superior de la República Dominicana y los Estados Unidos para discutir programas de intercambio con propósitos. El propósito es de promover colaboración internacional para preparar nuestro corriente y futuro mercado laboral y fortalecer el desarrollo económico del país.
La conferencia tendrá paneles que:
Abordar retos actuales de programas de intercambio entre el Caribe y los Estados Unidos
Ofrecer modelos de prácticas viables de intercambios de estudiantes y profesionales entre R.D. y EE.UU.
Proporcionar contenido viable de la educación internacional para profesionales de los sectores públicos y privados
Genere discusiones que conduzcan a soluciones viables
Temas incluirian:
Como eventos políticos y económicos alrededor del mundo afectan la movilidad estudiantil
Ideas innovadoras para el apoyo de la sostenibilidad
El uso de la tecnología y como la misma facilita la creación de redes globales y alianzas estratégicas
Problemas de administración en educación internacional
Esta conferencia buy viagra será enriquecida por discusiones entre representantes de los EE.UU. y la R.D. de viagra online diferentes sectores, creando una gran diversidad de presentadores y discusiones. Las propuestas serán consideradas como parte de un panel de discusión o una presentación.
Audiencia:
Profesionales de todos niveles de capacitación en el área de educación internacional/movilidad estudiantil.
Representantes del sector privado.
Representantes gubernamentales de diferentes ministerios.
Representantes de la sociedad civil dominicana que administran programas de intercambio.
Santo Domingo, Dominican Republic
November 10-11, 2016
At the first annual ConnectDR conference we will be bridging the sectors to create connections that transcend the traditional bilateral exchanges. Join us in exploring the theme: Building an International Network for the Future Workforce in DR. The event will take place in Santo Domingo, Dominican Republic.
The conference will bring the private sector, public sector generic viagra and civil society, as well as, the higher education institutions (HEIs) from the Dominican Republic together with the United States' HEI representatives to discuss the exchange programs with a purpose. The purpose is to promote international partnerships to prepare the current and future labor market and strengthen the economic development of the country.
The conference will have panels that:
Address current challenges of exchange programs between the Caribbean and the US
Deliver model practices in student and professional mobility between the US and the DR
Provide content for international education professionals and public and private sector organizations
Generate conversations that would result in viable solutions
Topics will include:
How economic and political events around the world impact student mobility
Innovative ways to support sustainability
Uses of technology and how it is facilitating global networks and partnerships
Management issues in international education
The conference will be viagra for sale enriched with discussions between US and DR representatives from different sectors providing a diverse array of presenters during sessions. Proposals will be considered as part of a panel discussion or session presentation.
Target Audience:
Either new, mid-career, or seasoned professionals in the field of international education/mobility.
Private sector representatives.
Government representatives from different ministries.
Civil society representatives that administer study abroad programs in the Dominican Republic.